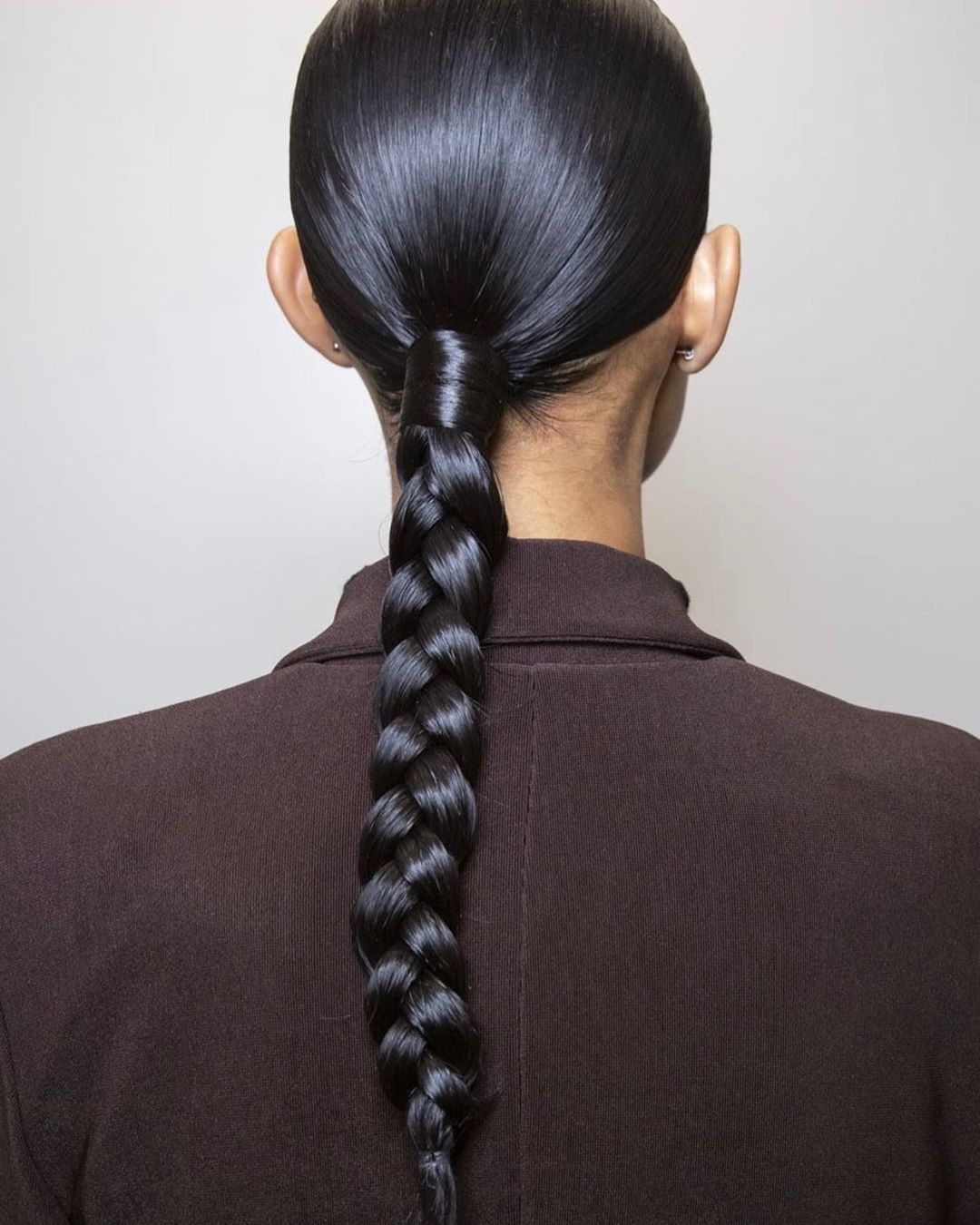 Ketika buru-buru bersiap di pagi hari, secara singkat rambut dikepang. Mau gym atau olahraga, rambut dikepang. Sedang bad hair day, disembunyikan dengan cara dikepang. Rambut kepang memang gaya rambut paling mudah dan versatile. Tapi kalau bentuk kepang yang kita pakai selama ini adalah the simplest one (or the messy one), bersiaplah untuk upgrade. We promise, versi baru kepang ini sama mudahnya dengan kepang konvensional.
Menurut runway Spring Summer 2019 di New York Fashion Week (Self-Portrait, Bevza, Christian Siriano), whip braid akan jadi tren gaya rambut di 2020. Bentuk kepangnya lebih ketat dan sleek, memberi tampilan rambut shiny seperti satin. Kepangnya sendiri bisa hanya single braid, atau dimodifikasi dengan menambahkan Dutch braid. Meski dikatakan sebagai tren gaya rambut 2020, tidak ada alasan untuk mulai mengaplikasikan tatanan rambut ini sekarang.
BACA JUGA: TREND GAYA RAMBUT 2019 WAJIB COBA
Langkah Dapatkan Gaya Rambut Whip Braid
Tertarik coba. Mari simak langkah-langkah dapatkan whip braid.
Langkah 1: Aplikasikan hair oil, mousse, gel, atau hair spray dengan formula yang memberi efek berkilau untuk extra-slick look.
Langkah 2: Sisir seluruh rambut ke belakang (dengan atau tanpa belahan rambut), lalu ikat ponytail. For more polished look, tutupi ikatnya dengan sedikit rambut, and secure it with bobby pin.
Langkah 3: Mulailah mengepang seperti biasa sampai mengecil di ujung rambut. You're done.
Yang membuat kepang ini sleek adalah kerapihannya. Dengan kata lain, tak ada rambut yang keluar. Inilah guna pakai prep products, seperti oil atau gel, yakni agar rambut lebih mudah diatur dan terlihat shiny bukan lepek (terkesan basah, but in a good way).
Rambut kepang Whip braid sangat ideal dipakai di cuaca panas di Indonesia. Rambut yang diikat ketat seperti ini tidak mudah rusak tertiup angin. Bagian terpentingnya: tidak buat gerah. Bisa dipakai untuk segala kesempatan, termasuk pesta dan acara formal karena slick look-nya sesuai dipasangkan dengan dress atau outfit elegan.
Scroll down untuk lihat inspirasi whip braid yang chic dan sophisticated.