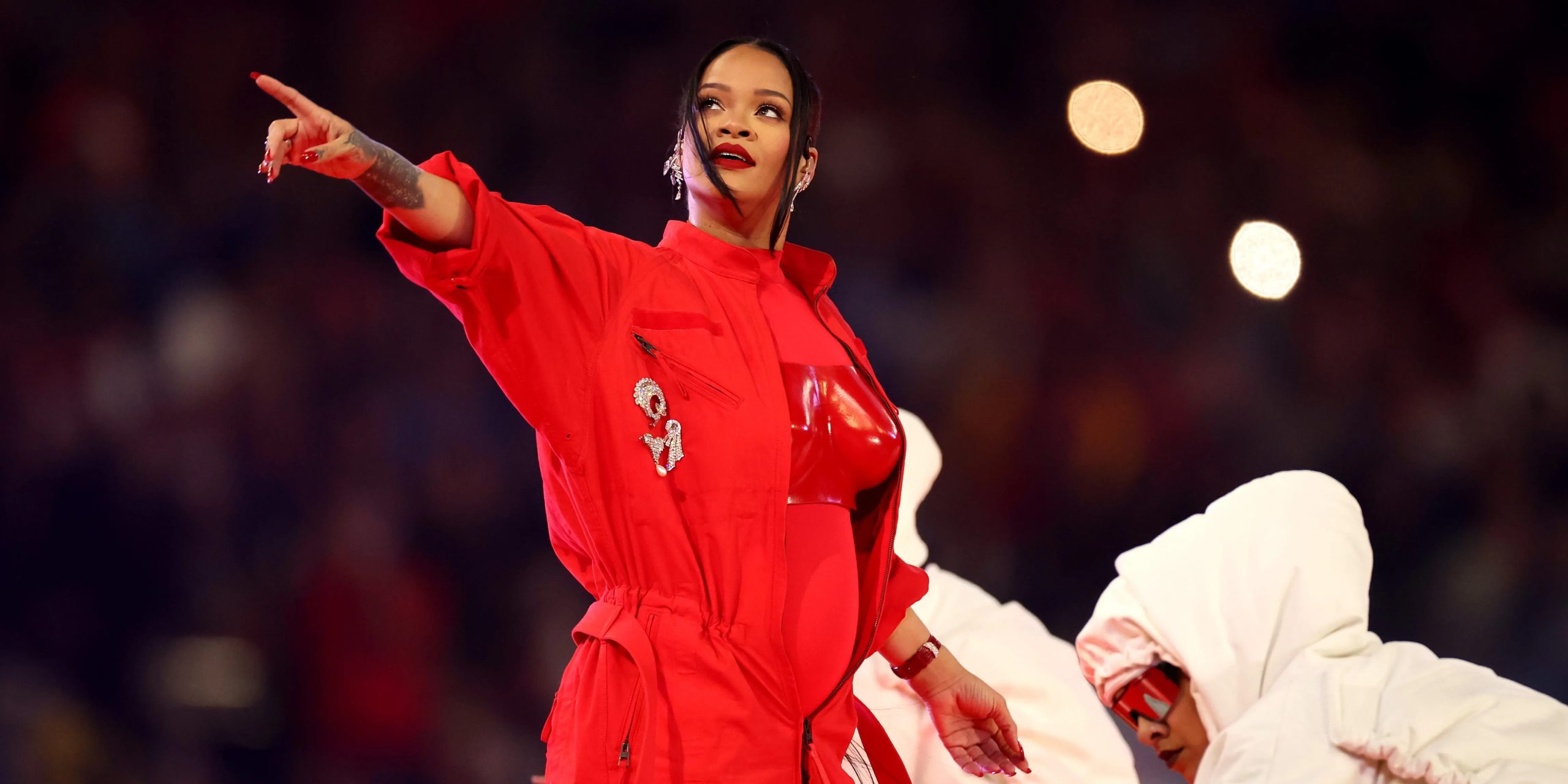 Welcome to the Rihanna Bowl! Rihanna jadi bintang Super Bowl halftime show kali ini. Mengingat ini adalah kali pertama ia kembali ke panggung setelah long music hiatus, well, kita boleh sepakat menyebut Super Bowl 2023 sebagai "konser Rihanna". Banyak yang menantikan penampilannya, termasuk para seleb dan rekan sesama musisi. Any surprise? Ya. Telah resmi dikonfirmasi Rihanna sedang mengandung anak kedua. Mengiyakan tebakan kita semua saat melihat perut buncitnya yang terbungkus outfit panggung serba merah bergaya sporty-chic yang bold. Congrats!
Membawakan 12 lagu hits andalannya selama Super Bowl halftime show, you know the Queen didn't disappoint. Juga dalam urusan makeup look – selalu ikonik meski dalam tampilan klasik. Pemilik brand Fenty Beauty ini tampil dengan makeup yang relatif minimal. Riasannya terlihat segar, dengan kulit wajah glowing dan sedikit sapuan eyeshadow untuk sentuhan sparkly. Of course, bibir juga harus matching dengan outfit-nya – merah menggelora. FYI, Rihanna pakai latex bra top dan jumpsuit dari Loewe, juga custom maxi coat dari Alaïa.
Baca juga: Cara Aplikasi Lipstik Merah yang Sempurna Seperti Makeup Selebriti
View this post on Instagram
Just in case you're wondering, bibir merah RiRi tercipta dari pulasan lipstik Fenty Beauty, lebih tepatnya Fenty Beauty Fenty Icon Velvet Liquid Lipstick shade The MVP. Lipstik ini dipilih karena warnanya yang vibrant, yang bahkan sekali pulas sudah menunjukkan warna intens. Karena konsep makeup Rihanna pada Super Bowl halftime show 2023 adalah timeless, classic makeup look, dengan aplikasi dibuat seringan mungkin. Jadi, ia perlu lipstik yang tidak perlu dipulas berkali-kali, supaya hasilnya tidak terlihat cakey. However, we're loving it!