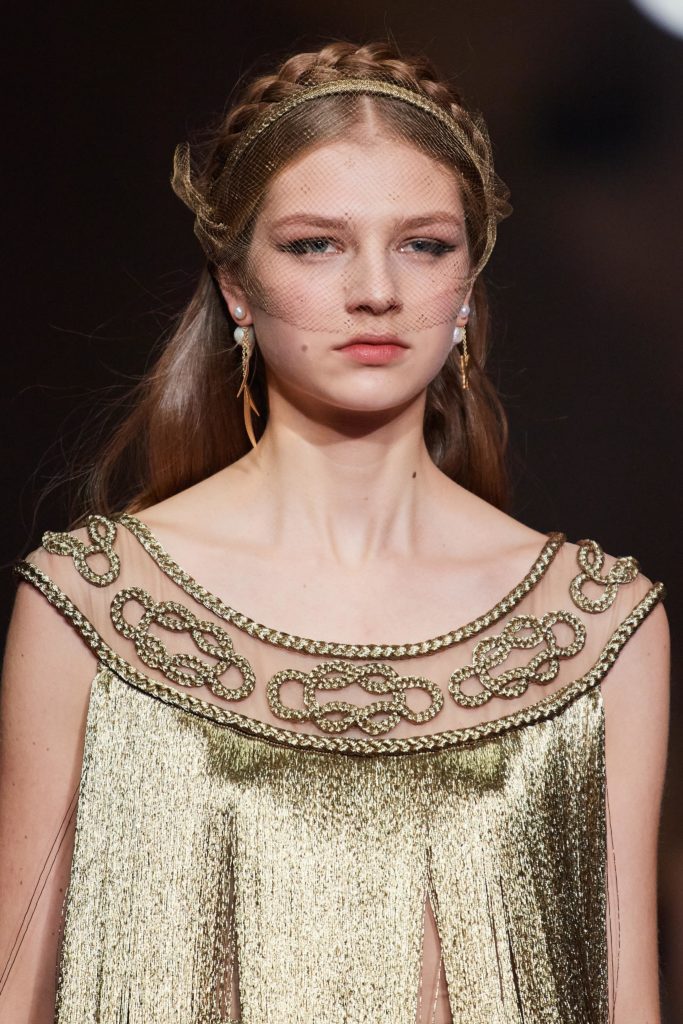 "What if women ruled the world?" Pertanyaan tersebut menjadi tema utama pada show Dior Couture Spring Summer 2020. Creative director Maria Grazia Chiuri memang sangat vokal dengan pandangan feminist. Dan melalui koleksi couture Dior kali ini, ia ingin lebih mengangkat kekuatan wanita dengan menjadikan Judy Chicago (seniman feminist Amerika yang juga dikenal dengan nama The Dinner Party) dan figur dewi Yunani kuno sebagai inspirasi.
Pemikiran kolaboratif Chiuri dan Chicago untuk koleksi haute couture ini melahirkan ide tentang keyakinan terhadap dewa-dewi dan perjuangan seniman wanita dalam mengekspresikan karyanya di tengah sistem patriarki. Chiuri mengungkapkan, ide dewi-dewi yang dilontarkan Chicago mengantarkannya pada gambaran patung-patung di Roma, Botticelli, dan semua hal yang berkaitan dengan Italia.
Dan lihatlah, koleksi Dior Couture Spring Summer 2020 sangat mempresentasikan tampilan dewi Yunani (seperti Athena) dengan palet emas berkilauan, juga potongan drapery dan tie, lengkap dengan sandal bergaya Roma. Seperti yang diharapkan dari busana couture, gaun-gaun malam dan bodice yang panjang hadir dalam pleat, bead, dan embroidery yang dibuat dengan teknik seni couture tertinggi. Misalnya saja fringed dress, setiap helai rumbai tidak dijahit, tapi dikepang dan dibiarkan menjuntai. Selain nude, taupe, dan metalik, palet warna ungu, teal, dan baby blue juga ditemukan pada koleksi ini untuk menambah kesan modern.
Gaya Makeup dan Rambut Dior Couture Spring Summer 2020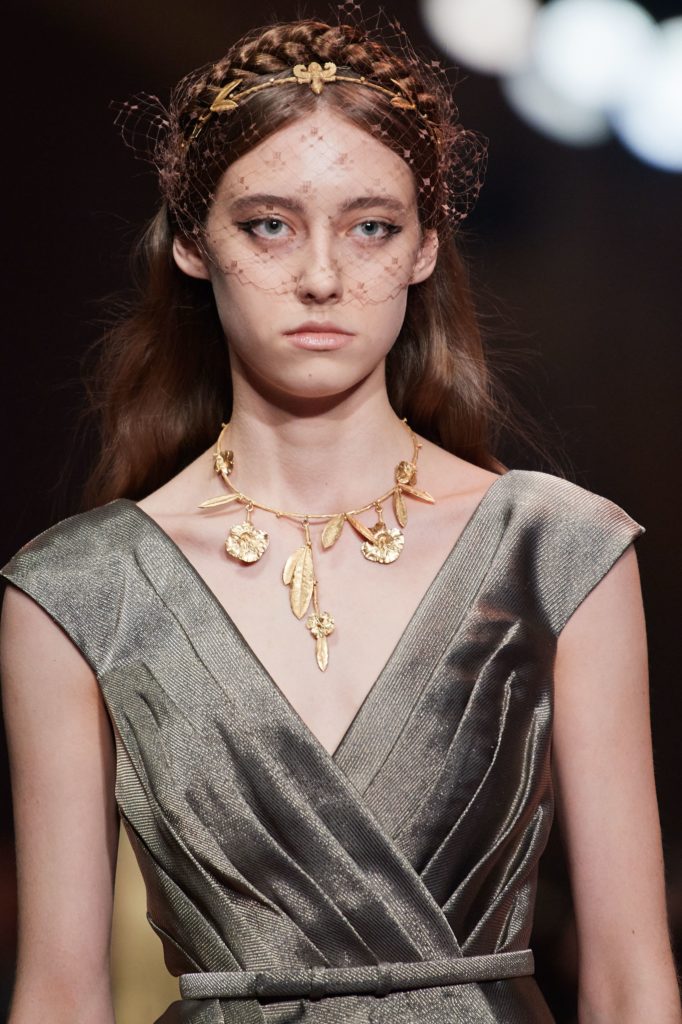 Untuk menegaskan tampilan bergaya dewi Yunani pada Dior Couture Spring Summer 2020, rambut para model ditata dengan gaya braided crown lengkap dengan gold headpiece. Urusan makeup pun tidak jauh-jauh dari warna emas. Creative director Dior Makeup, Peter Philips menciptakan tampilan double cat eyes dengan menambahkan semburat gold eyeliner di antara cat eyes hitam. Warna emas di sini berfungsi sebagai pelengkap (namun bukan statement) yang membuat seluruh beauty look jadi lebih tersorot.
Baca juga: CHANEL Couture Spring Summer 2020 Beri Gambaran Masa Kecil Gabrielle Chanel