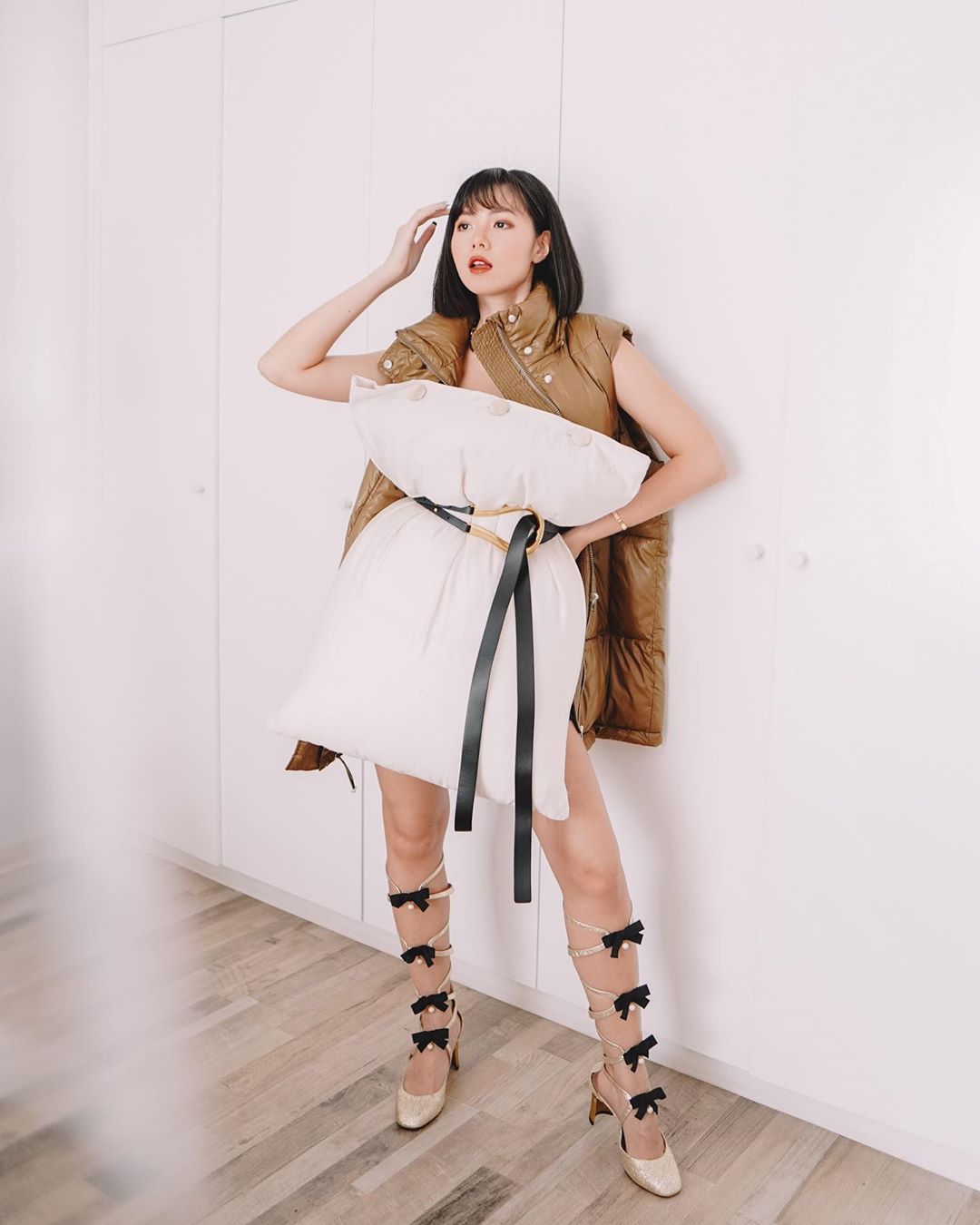 Meme mengatakan "kaum rebahan adalah pahlawan COVID-19." Ya, daripada menambah risiko penyebaran virus Corona di luar rumah, lebih baik #stayhome yang pastinya membuat kita lebih banyak rebahan alias malas-malasan di kasur selama quarantine. Dan ternyata, rebahan tersebut dipakai secara kreatif oleh fashionista untuk menciptakan trend fashion baru di media sosial dengan hashtag Pillow Challenge.
Sesuai namanya, #PillowChallenge merupakan tantangan untuk menampilkan outfit look yang didapat dari perlengkapan tidur, mulai dari bantal hingga selimut. Basically, para fashionista menjadikan bantal sebagai mini dress yang dipakaikan ikat pinggang, lalu foto selfie depan cermin. But they take it to the next level, menjadikannya high fashion look dengan menambahkan aksesori branded, seperti ikat pinggang Gucci, Dior Saddle Bag, dan kacamata Celine.
Pelopor Pillow Challenge
View this post on Instagram
Trend fashion #PillowChallenge yang sudah viral di media sosial ini pertama kali diciptakan oleh dua fashion influencer populer di Instagram bernama @myforteisfashion dan @stylebynelli. Mereka berasal dari Swedia dengan jumlah follower ratusan ribu – tidak heran trend fashion ini cepat menyebar. Awalnya, mereka menciptakan #quarantinepillowchallenge dimana bantal sebagai mini dress yang dilengkapi dengan ikat pinggang.
View this post on Instagram
Seiring berjalannya waktu, hashtag-nya berubah menjadi #PillowChallenge dengan look yang semakin bervariasi. Tidak hanya bantal, tapi juga selimut dipakai sebagai gaun yang dibuat bersiluet ramping dengan ikat pinggang, lalu pose santai seperti foto dasar OOTD. Pillow Challenge pun diikuti dengan hashtag lainnya berupa #HomeCouture. Search it and you'll find out the endless outfit inspiration of how people style their pillows and bedsheets.
Baca juga: 6 TikTok Fashion Influencer Wajib Follow untuk Inspirasi Gaya Stylish
Fashion Influencer dan Selebriti yang Ikuti Pillow Challenge
Konsepnya Pillow Challenge yang sederhana, mudah diikuti, melibatkan sisi kreatif kita dalam styling outfit membuat trend fashion ini jadi viral dan diikuti oleh semua pecinta fashion, terutama fashion influencer Indonesia, seperti Ayla Dimitri, Olivia Lazuardy, Diana Rikasari, dan banyak lagi lainnya. Juga tidak terkecuali para selebriti, sebut saja Anne Hathaway, Tracee Ellis Ross, Halle Berry, dan masih akan banyak lagi yang mengikuti.
Bagaimana? Tertarik ikuti #PillowChallenge? Sebelum melakukannya, mari lihat dulu beberapa standout quarantine looks dari para style star dan selebriti berikut.
Fashion Influencer
View this post on Instagram
View this post on Instagram
View this post on Instagram
View this post on Instagram
View this post on Instagram
View this post on Instagram
View this post on Instagram
View this post on Instagram
View this post on Instagram
Selebriti
View this post on Instagram
View this post on Instagram
View this post on Instagram
View this post on Instagram