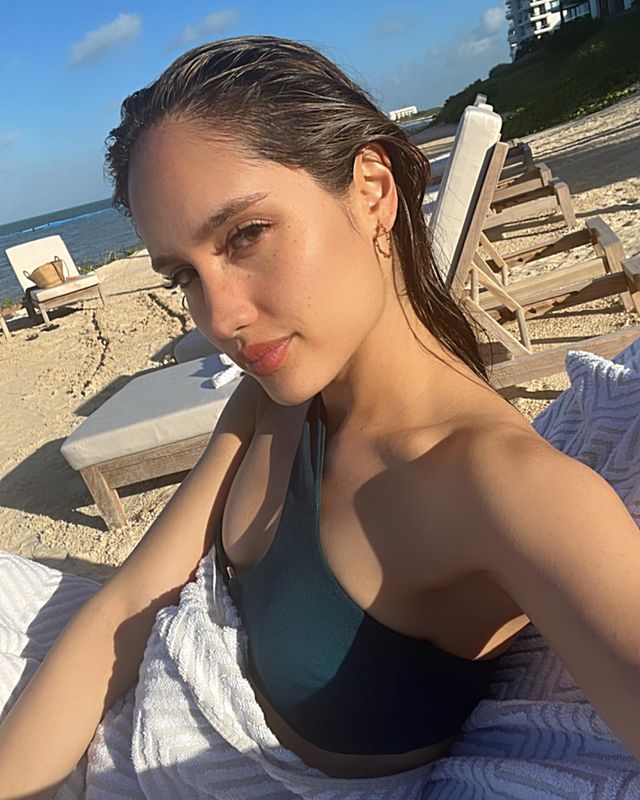 Cinta Laura Kiehls is getting ready for summer. Gaya Cinta Laura di pantai dengan outfit yang sangat menyuarakan fashion trend summer 2023. Pada sesi pemotretan untuk cover majalah Her World Indonesia edisi Juni, aktris dan penyanyi berdarah Jerman-Indonesia ini tampil dengan summer outfit dari koleksi Tory Burch Pre-Fall 2023. Intip juga gaya Cinta Laura Kiehl di akun Instagram Time International (@time.international, PT Timerindo Perkasa Internasional).  Ini inspirasi outfit liburan ke pantai yang kita butuhkan. Because we want to enjoy a relaxing beach vacation so bad.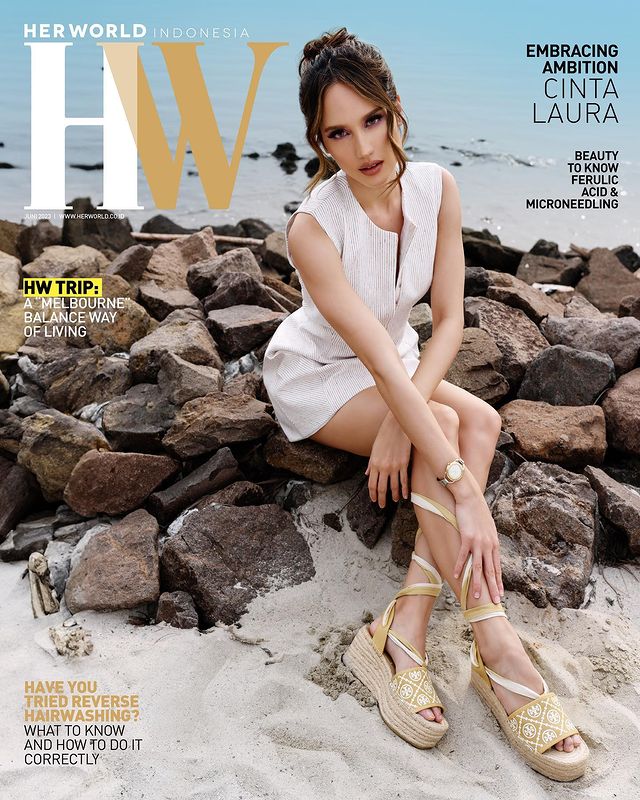 Mau liburan di Bali atau pantai dekat Jakarta, one thing for sure: a sunshine-filled getaway should be a stylish one. Ambil inspirasinya dari look Cinta Laura dengan memasukkan elemen warna vibrant dan beachy vibe dari koleksi Tory Burch. Berpose di depan kamera dengan hot-girl summer attitude, bintang film "Spirited" ini tahu summer essentials melibatkan midriff-flossing, cut-out, dan sexy summer dresses.
Scroll on to see the most fashionable beach outfits pada gaya Cinta Laura untuk majalah Her World Indonesia.
Bandeu and Maxi Skirt
Untuk outfit pantai yang effortless, formula styling-nya mudah: bandeu bikini dan maxi skirt. Di sini, Cinta mentransformasi scarf Tory Burch menjadi bandeu yang dipadu dengan maxi skirt for the ultimate easy-going vibes. Detail high-slit yang dramatis pada maxi skirt menambah sentuhan stylish yang sexy. Of course, outfit tidak lengkap tanpa tas dan tas yang sempurna untuk look ini adalah larger-than-life Ella Tote untuk membawa semua barang esensial selama liburan.
Breezy Beach Dress
If your ideal beach day means having a cold beverage with friends, maka pakai dress bermotif seperti dress Tory Burch yang dipakai Cinta. Padukan dress dengan trendy and comfortable gold metallic sandals to balance out the playfulness. Penampilan effortless bukan berarti tidak eye-grabbing. Gaya penyanyi "Cloud 9" ini diberi sentuhan dominan dari tote bag logomania warna merah yang bagaimanapun makes the splash this summer.
Baca juga:
Beach Midi Dress
Pantai tidak hanya untuk swimsuit; it's also the perfect setting to show off your summer midi dress. Piknik di tepi pantai? Artis kelahiran 17 Agustus 1993 ini perlihatkan midi lace dress warna putih adalah outfit yang sempurna for hanging out on the sand until the sun goes down. Tambahkan mood-boosting color dengan Medium Ella Bio Tote hijau dan silver flats to create the ultimate beachy vibe. Ah, jangan lupa, a cute pair of sunnies to accessorize your look is a must.
WLD and Stylish Handbag
You never know when a day at the beach will turn into a night out. Mau fancy dinner, datang ke summer beach party, atau beach date dengan pasangan, white little dress jadi pilihan Cinta. Effortlessly look like an oceanside princess. Supaya menambah kesan elegan dan formal, pakai bersama Eleanor bag dan a classic beach staple, which is espadrilles yang semakin stylish dengan motif monogram Tory Burch. This outfit is definitely perfect for a fun night at the beach.
Ingin look yang sama dengan Cinta for your next beach vacay? Dapatkan koleksi lengkapnya di butik Tory Burch Indonesia.