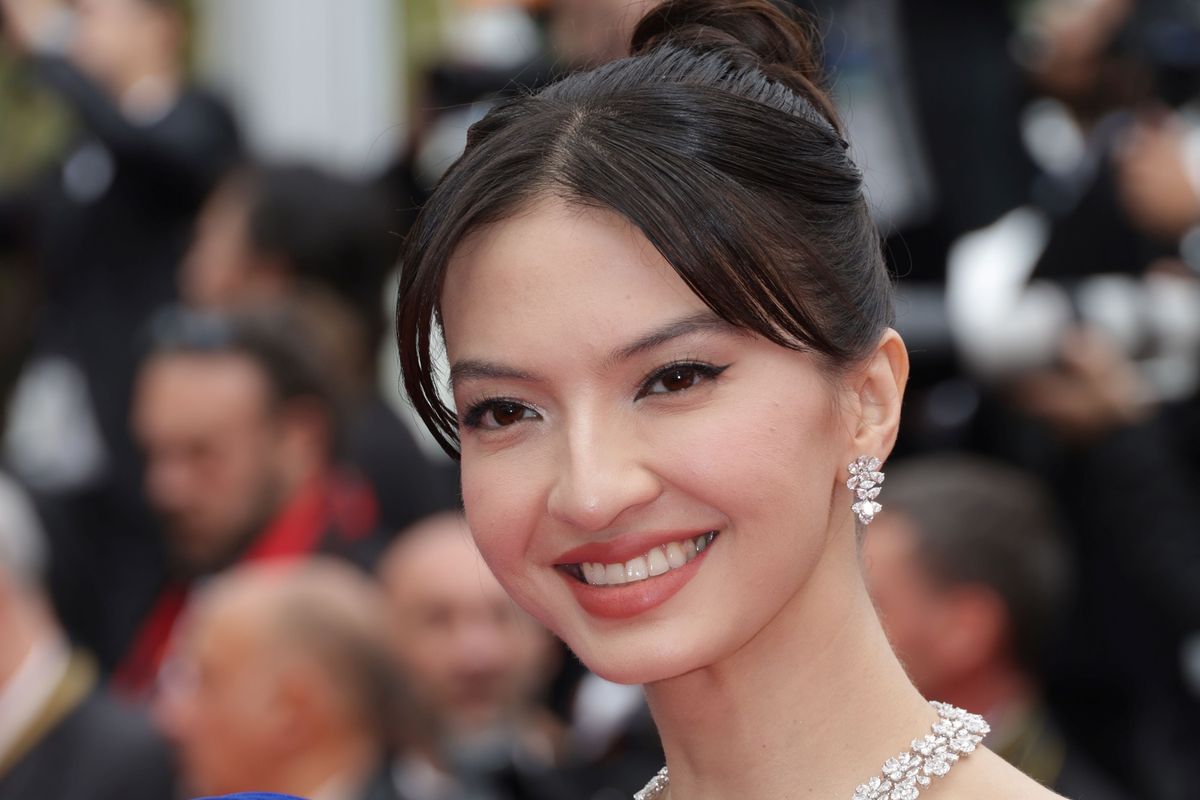 Raline Shah kembali ke Cannes Film Festival 2023. Ini tahun kedua kehadirannya di festival film bergengsi tersebut. Tahun lalu ia mengundang decak kagum dengan gaun glamornya yang berwarna hijau zamrud. Seperti menancapkan tema red carpet look-nya di Cannes 2023, kali ini ia tampil serba biru. Gaun yang ia pakai selama tiga hari berlangsungnya acara merupakan shade of deep blue – warna yang solid, elegan, dan mewah untuk acara prestisius seperti Cannes Film Festival.
Mari kita break down penampilan Raline Shah saat menghadiri premiere film di Cannes Film Festival 2023. Dari gaun dengan exaggerated shoulder, kebaya dan batik, hingga sparkling dress, kita sepakat hadirnya sang aktris di gelaran tahunan tersebut sukses memancarkan pesona cantik Indonesia. Now, choose your favorite look!
Raline Shah in Gaurav Gupta
View this post on Instagram
Menghadiri premiere film terbaru Leonardo DiCaprio "Killers of The Flower Moon" di hari pertama, Raline memilih tampil extravagant dengan gaun warna cobalt blue dari desainer India Gaurav Gupta yang terkenal dengan rancangan yang penuh sapuan, putaran, dan ombak. Gaun ini memiliki wave pattern yang dramatis pada bagian oversized off-shoulder. Glamor!
As for accessories, bintang film "Surga yang Tak Dirindukan" ini tampil bersinar, thanks to her Chopard jewelry yang terlihat sangat sempurna di telinga dan lehernya. Gaya rambut high bun juga memberi ruang bagi perhiasan mewah merk Swiss tersebut untuk menampakkan kilaunya. Untuk acara spesial seperti ini, Raline sukses besar tampil elegan that remained true to her signature style.
Raline Shah in Maison Baaz Couture
View this post on Instagram
Penampilan anggun Raline Shah di hari kedua Cannes Film Festival 2023 patut jadi sejarah red carpet fashion. Ia mencuri perhatian dengan kebaya warna midnight blue (with long train!) rancangan Cacal Baker dan Diaz Patria dari Maison Baaz Couture yang dipadu dengan kain batik Palembang koleksi pribadi milik sang ibu. Busana Indonesia dibawa ke ajang festival internasional, perempuan 38 tahun ini sukses memancarkan pesona kecantikan nusantara.
Gaya glamornya saat menghadiri premiere "Firebrand" ini disempurnakan oleh statement necklace dan rangkaian perhiasan dari Chopard. Kalung dan cincin yang memberinya tampilan glitz and glam memiliki kilau warna biru yang sama dengan warna kebayanya. Her hair was pulled into a slicked-back bun, yang selalu jadi favorit untuk dapatkan gaya classic glamor – tapi tetap ayu dipadukan dengan kebaya dan batik.
Raline Shah in Georges Hobeika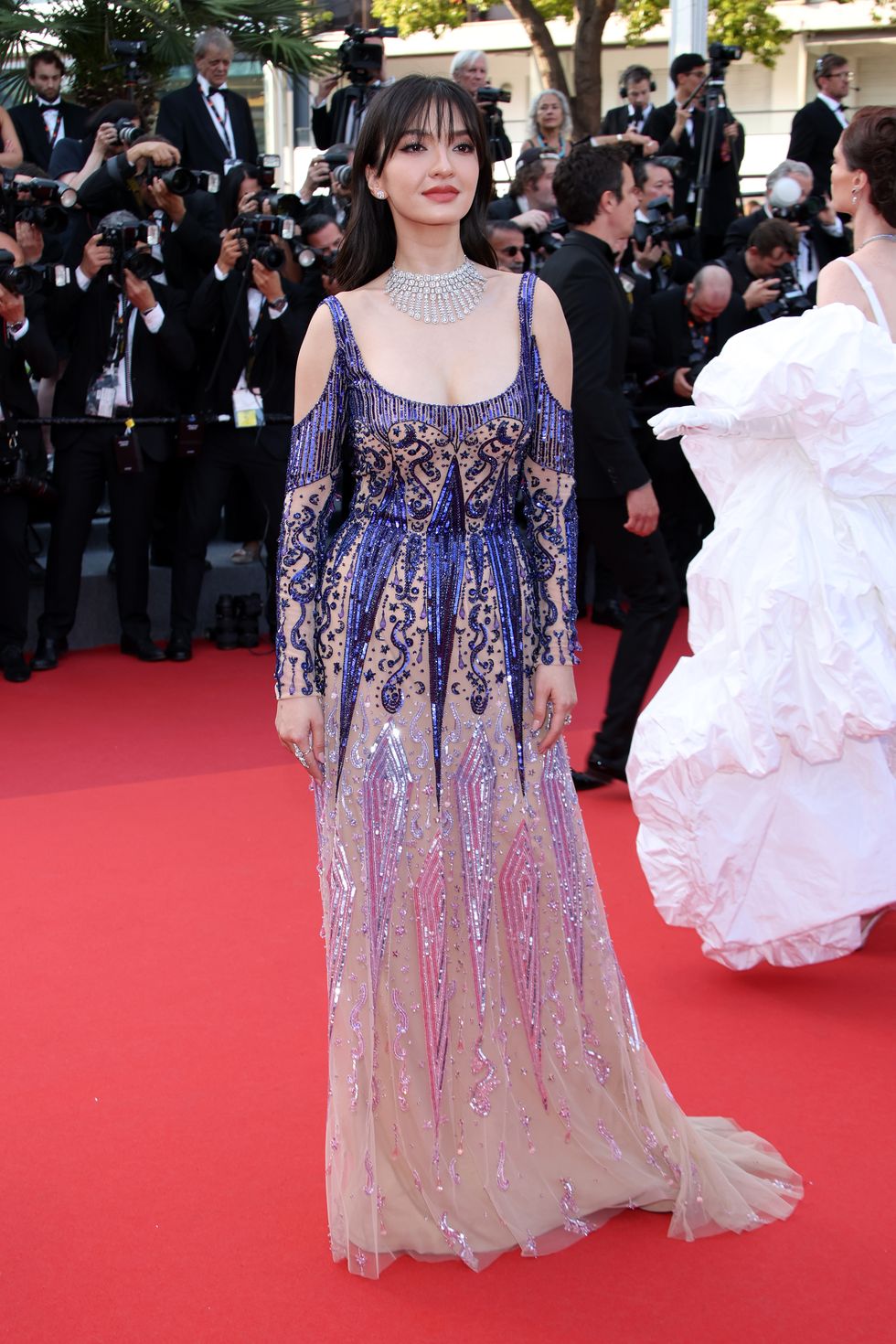 Another day, another look. Di hari ketiga Raline pilih sparkling dress dengan sentuhan warna royal blue yang lagi-lagi glamor (sebuah keharusan di red carpet Cannes!). Dress dari Georges Hobeika ini memiliki detail metalik yang tidak pernah gagal memantulkan kilatan cahaya. Memberi tampilan stunning yang buat gaya sang aktris di red carpet jadi salah satu terbaik. Bedanya, look kali ini ia membiarkan rambutnya terurai, lengkap dengan fringe bangs. Untuk aksesori, ia menghiasi decolette-nya dengan kemilau mewah dari perhiasan Adelle Jewelry.
Dapatkan kemewahan yang sama seperti gaya Raline Shah di Cannes Film Festival dengan perhiasan Chopard. Kunjungi butik Chopard Indonesia.