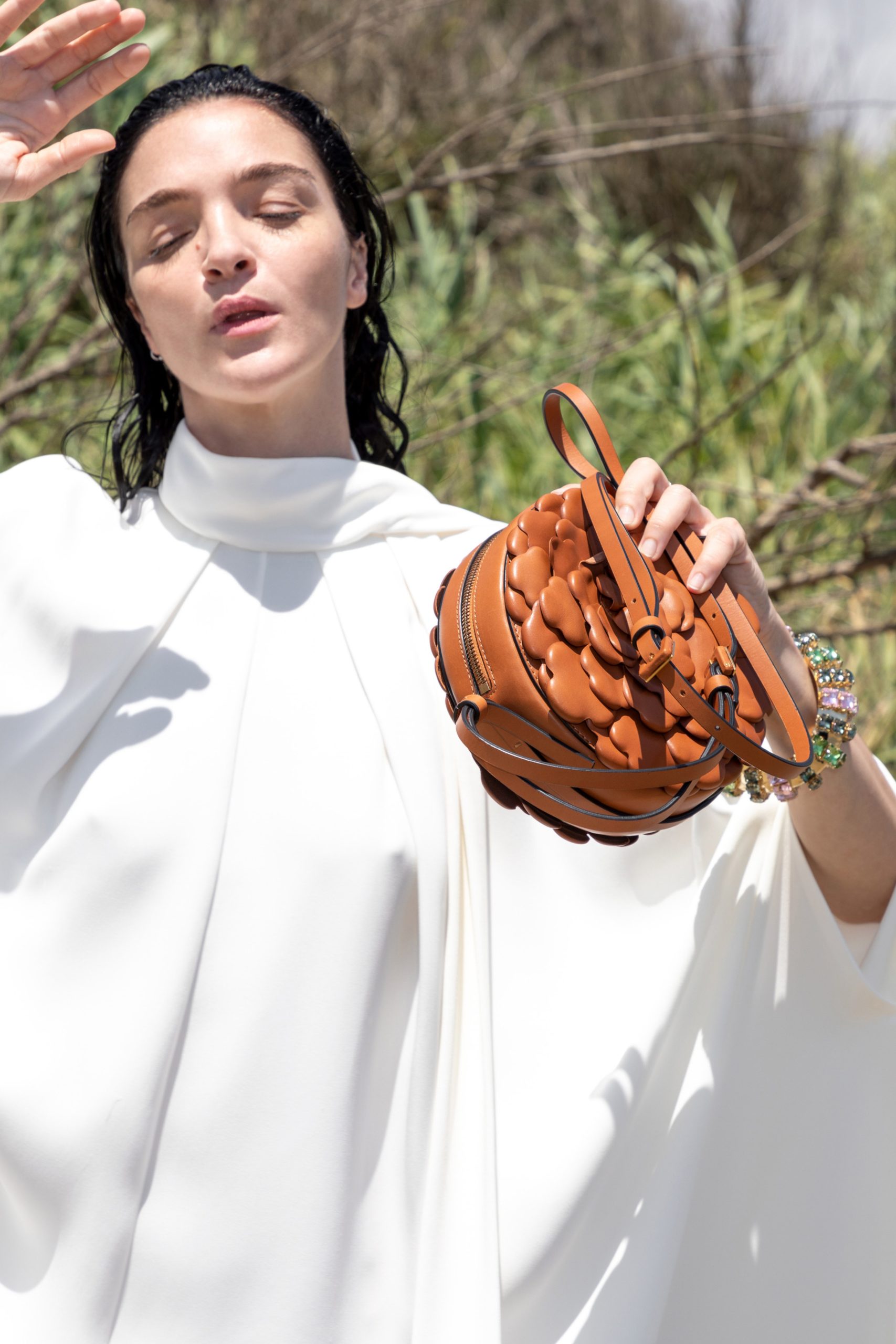 Lockdown akibat pandemi COVID-19 membuat Pierpaolo Piccioli harus melupakan show fisik dan berpikir kreatif untuk mempresentasikan koleksi terbaru Valentino Resort 2021, and you can always trust in him. Seharusnya koleksi ini dibawa ke New York. Namun karena pandemi, Piccioli membawa koleksi ini dari Roma pulang ke kampung halamannya di Nettuno, Italia. Teman baiknya, Mariacarla Boscono, menjadi wajah untuk campaign Resort 2021. Dengan setting alam di sekitar rumahnya, Piccioli sendiri yang mengambil foto-fotonya. Ya, kali ini ia sekaligus berperan sebagai fotografer.
Tampak seperti campaign yang dibuat secara lo-fi menjadi signature baru luxury house Italia tersebut. Serupa dengan campaign #ValentinoEmpathy untuk Fall Winter 2020, campaign Resort 2021 dilakukan tanpa filter, manipulasi, maupun interpertasi atau mediasi lain. Ia ingin menyampaikan kejujuran, spontanitas, dan bahkan ketidaksempurnaan dari sebuah koleksi yang terlahir tanpa styling dan mood board. Prosesnya berdasar pada elemen kreativitas dan emosional dimana ia ingin menunjukkan sisi dirinya yang lebih personal dan hubungan mendalam antara dirinya dengan team. "A pure fashion process, as it should be done," ungkapnya pada Vogue.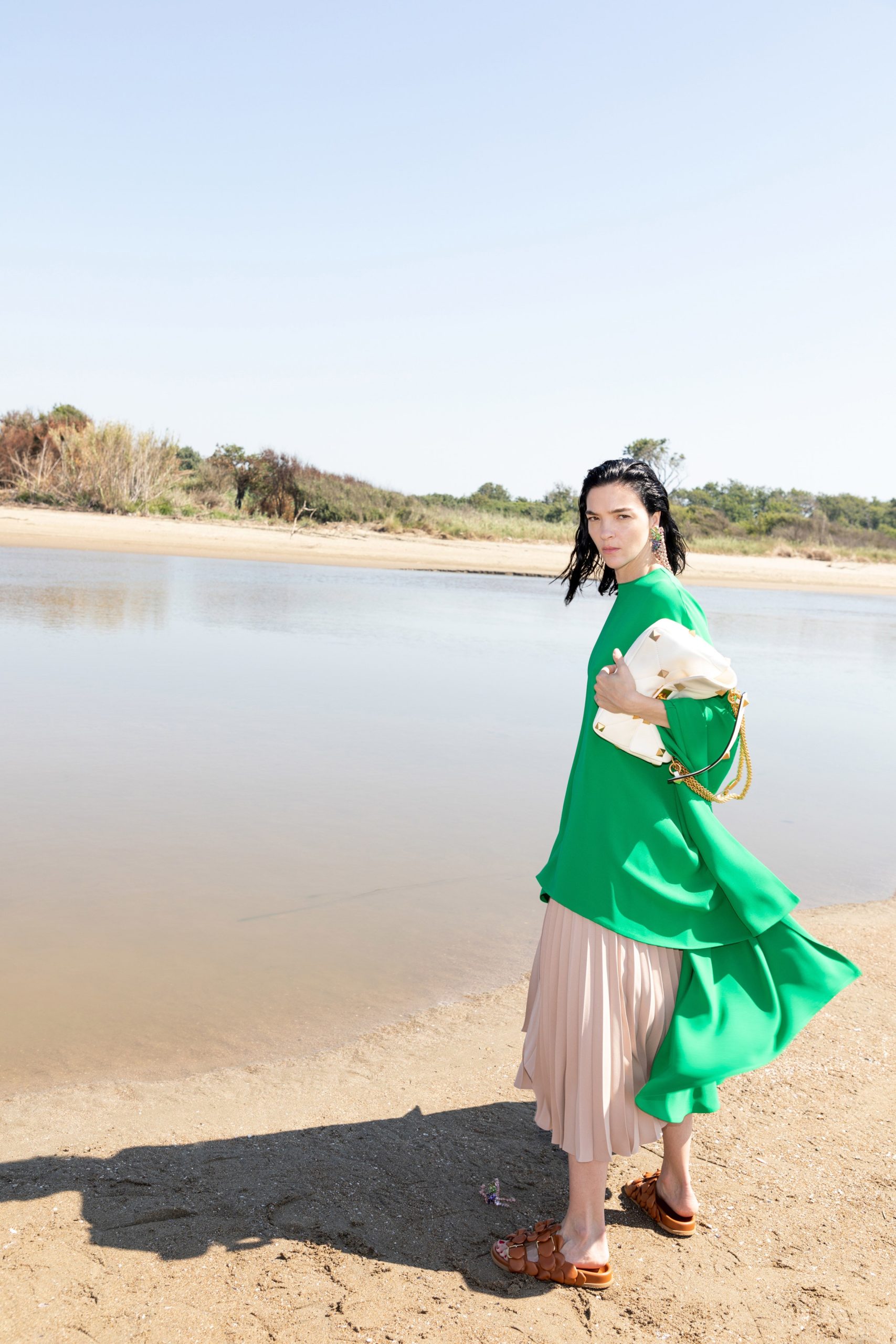 Tidak mengherankan jika koleksi ini sangat bernapaskan kesederhanaan, namun tentu saja dengan gaya khas Piccioli yang extravagant. Simplicity yang ingin ia tonjolkan dikemas ke dalam gaya lebih radikal melalui kerumitan potongan, keseimbangan, dan proporsi. "Sederhana, namun tidak disederhanakan," begitu ucapnya. Jiwa bebas dan effortless dicerminkan pada siluet ramping kaftan, shift dress, dan cape yang dibuat mudah melalui bahan ringan. And yes, as a master of color, Piccioli masih membawa warna-warna vibrant (hijau neon, fuchsia, marun) pada koleksi Valentino Resort 2021. Palet warna yang berani pun dituangkan ke dalam motif abstrak yang terinspirasi dari seni tekstil abad 18.
Untuk campaign Valentino Resort 2021, Piccioli pun ingin menyampaikannya lebih personal dengan membawa konsep visual diary teman dekatnya. Pesona Mariacarla yang penuh dengan kepercayaandiri, ditambah sentuhan spontanitas pada foto-foto campaign, bagi Piccioli dapat memberi bayangan akan hubungan baik antara fotografer dan modelnya. Tak hanya Mariacarla, model pria Lucas El Bali juga bergabung, menunjukkan bahwa koleksi Valentino tak miliki batas – seperti yang selalu disuarakan Piccioli bahwa dirinya sangat menjunjung tinggi kesetaraan gender.
Lihat foto campaign Valentino Resort 2021 berikut. Sementara itu, temukan koleksi Valentino di butik Valentino Indonesia.